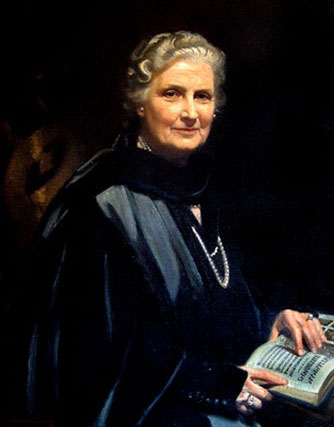 Dr. Maria Montessori (Born 31 August 1870, in Italy— Died 6 May 1952, in Netherlands) is an Italian educator and founder of the method of education that bears her name – Montessori. The Montessori method of education is based on the belief in the creative potential of children, their drive to learn, and the right of each child to be treated as an individual.
She discovered that certain simple materials aroused in young children an interest and attention not previously thought possible. These materials included beads arranged in graduated-number units for pre-mathematics instruction; small slabs of wood designed to train the eye in left-to-right reading movements; and graduated series of cylinders for small-muscle training to name a few. Children between three and six years old would work spontaneously with these materials, with no distraction, for a long time.
A large measure of individual initiative and self-direction is characterised in the Montessori philosophy including a focus on self-education. The teacher provides and demonstrates the special "educational apparatus" but remain in the background, leaving the child to handle it alone. In the Montessori teaching methodology – biological and mental growth are linked as "Sensitive Periods" corresponding to ages when a child's interest and mental capacity are best suited to acquire knowledge.
Vision & Mission Statements
Our Vision

Our vision is to nurture and empower children to reach their full potential by planting the seeds to create a passion for life-long learning.

Our Mission

Our mission is to provide a prepared caring environment for children from 6 months to 6 years that would enhance their natural curiosity towards collaborative learning and self-discovery guided by the Montessori Method of Teaching.

We Offer

At Trillium Montessori School, we offer a caring and challenging educational environment for infants, toddlers and pre-school children up to 6 years of age.